Ingredients
1 cup all-purpose flour
1 cup sugar
1/2 cup unsweetened cocoa powder
1/2 teaspoon baking soda
1/4 teaspoon baking powder
1/4 teaspoon salt
3/4 cup milk
1/3 cup cooking oil
1 teaspoon vanilla
1 egg
2 quantities of butter frosting
16 Snowdon Cup Cones
5 Snowdon Honey Waffle Cones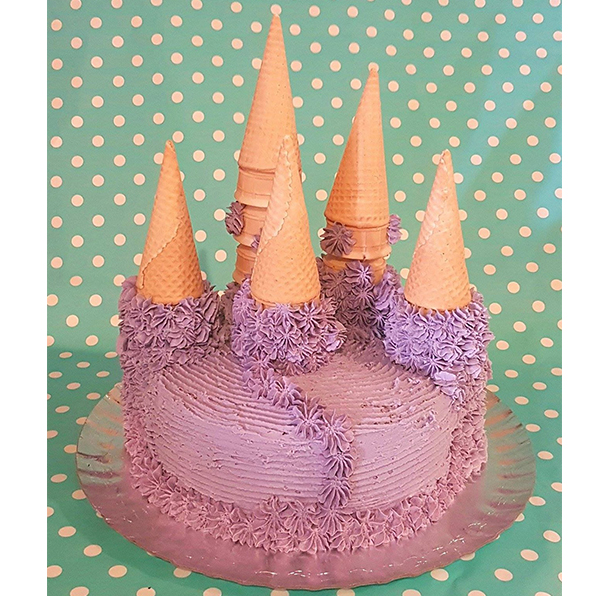 Instructions
Preheat oven to 180 degrees C. Grease and flour two 9 inch (23 cm) round baking pans.
In a large bowl (or your stand up mixer) stir together flour, sugar cocoa powder, soda, baking powder, and salt. Add milk, oil, and vanilla. Beat with a hand mixer (or your stand up mixer) on low speed until combined. Increase to medium speed and beat for 2 minutes longer. Add egg and beat 2 minutes more. Pour half of batter into each prepared pan.
Bake for 30-35 minutes until a wooden toothpick inserted into the centre of cake comes out clean. Cool on a wire rack for 10 minutes in pans. Remove both cakes from pan and cool thoroughly on wire rack.
To assemble cake in shape of castle stack the two cakes and cut circles for the towers that will be from the base (as per photo I have used 2 of these towers with the other towers sat on top).
Once you have worked out your assembly you can put cones aside and ice the cake as you normally would, adding the cones in once the base is completely covered and completing using a piping bag and nozzle.