The Tawse family purchased this business in 2012. At the time it needed some love and showed plenty of potential. Dedicated staff had battled a smoky environment with the occasional mini fires from burnt cones, while patiently attempting to make the most of damaged machines, all the while trying to keep up with demand. Frankly, our hats were off to them!
Frequent oven break-downs, the occasional personal burn, and bumps in attending to machines were the norm. The rugged environment was the result of poor condition baking equipment and a baking environment that could be improved.
As new owners we came to realise we had big changes to make, and quickly! So, we shared our vision of "what good looks like" with our loyal, hard-working staff – "This should be fun and it should be easy."
We continued, "we should just come to work, turn the ovens on, they should run all day, we make the required cones, and then we all go home happy." Today, I am pleased to say we are pretty much there.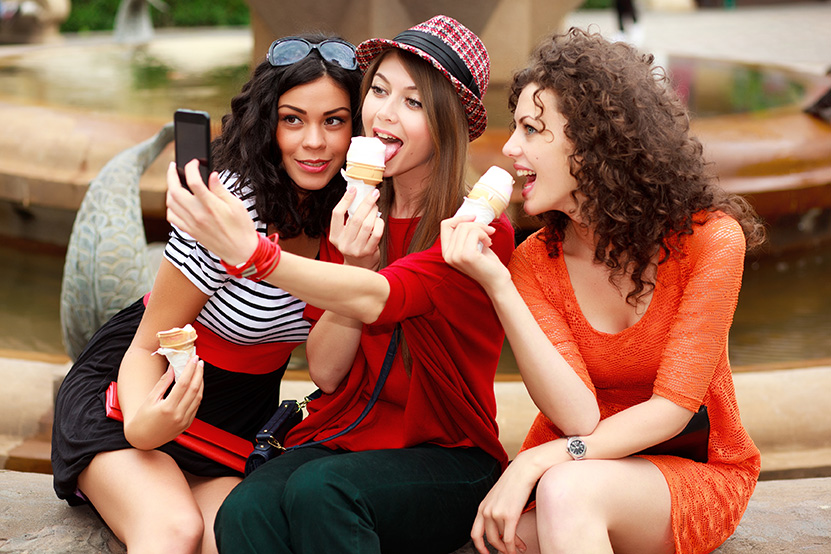 We overhauled, or replaced, all the machines. We re-bushed them, and straightened machine parts where needed, and we contracted external engineers to fix damaged moulds, and repair broken parts.
We then sealed the factory floor, for reasons of pride, and for additional hygiene purposes. I wanted our team to work in an environment that they feel proud of, and I wanted to have a factory that I was pleased to bring restricted visitors to. The team devoted a full, long weekend to cleaning and stripping the walls with caustic solution – hard work! Together we cleaned, dried and painted the walls, and got stuck into dusting the roof and extractor fans. The finished result – a light, clean environment that we enjoy working in.
We purchased two new rotating ovens to replace the ovens that were beyond repair, and made it mandatory to change into factory shoes, and to wear protective clothing, hair nets, beard masks and visitor shoe covers.
Any time is a great time for an
ice cream in a cone
Once the initial groundwork was done, we set a 95% performance goal. It seemed an unreachable goal at the time, and one that could be a long way away…
So we got to work! We reviewed our processes, and standardised water temperatures for our batter mixes. We changed our recipes, engaging the services of Food Technologists, who helped us in collaboration with our flour supplier to develop flour with good protein content and gelatinization qualities. We did away with our old recipes and created new ones.
We purchased equipment to test the strength of our cones and engaged both Massey University, and a commercial company, to test cones for a variety of characteristics such as strength and crispiness. A cone has got to have crunch!
After all this, you'd think we might have thought we'd done enough? But, strangely enough we still felt we could go further….. So, we re-designed the moulds for our double cones giving them 14% more strength as tested by Waikato University, we changed the design of our Kids cones moulds adding thickness to the wall creating a 20% stronger cone (testing both sides of the cone for strength, and averaging the two), and we re-designed the surplus batter removal process, with less waste and more cones.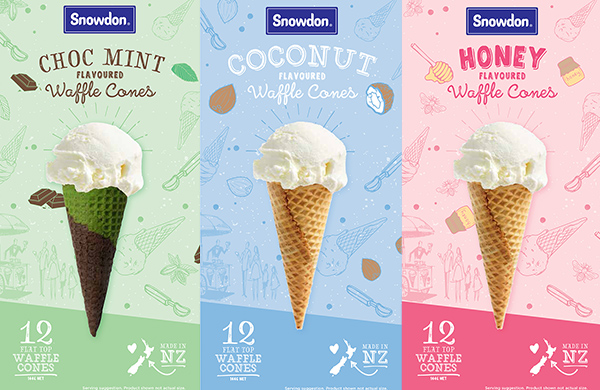 Then we worked on our recipes, particularly adding both fibre, starch and an enhanced flavour profile. And it worked! When the waffle cone was initially re-launched we regularly received compliments about their flavour, and /or strength. Today, our improved cone is the new norm.
From there, we undertook packaging trials to try to completely eliminate the use of plastic trays. Striving towards good sustainable practices, we're pleased to report that we achieved partial success – but we're still trying! We have undertaken storage trials to ensure the continuing freshness of our cones, trialling multiple types of plastic for our sealed bags.
Many of these original research procedures are now part of our Food Safety Plan. We are rated with a 'Green Light' status, and are now on the longest Food Safety Audit interval because of the high standards we have set and maintained.
Fostering a spirit of innovation, every day the company is continuing working on new products to introduce, and new designs to trial, as well as the development of new flavours and recipes to keep our product range current and inspiring. One day we might even have an oatmeal waffle.
Because of our nature and passion for what we do, we will always be striving to be better, more efficient, more appealing and to create more excitement in the cones you enjoy.
However, at the end of the day, after all the hard work, (and a few moments of sheer genius) from amongst the team, I'm pleased to say we all took a moment to stand back and look at how far we'd come. We've got to admit we're pretty proud to have brought the production of waffle cones back to NZ! We hope you Kiwis from the Cape to the Bluff with be enjoying Snowdon cones for years to come.